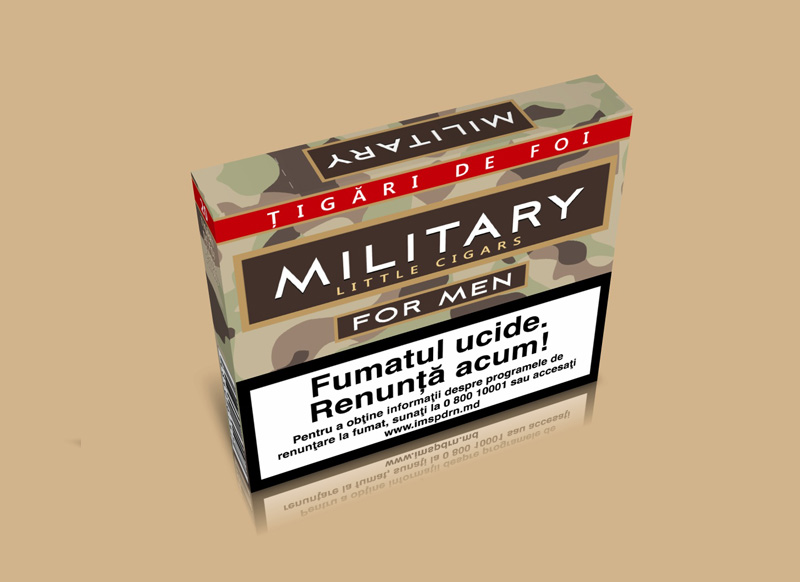 The quantity of harmful substances in cigarillos:
Resins: – 12,0 mg/cig.
Nicotine: – 1,48 mg/cig.
СО: – 11,5 mg/cig.
Non-filter cigarillos MILITARY are presented in a classic-style pack of 20 machine-made cigarillos.
The pack is designed based on consumers' will and technical regulations norms. The pack is nice looking and stylish.
Cigarillos Military are made of 100% Cuban, Brazilian and Sumatran tobacco. The filling is wrapped in a special paper from brown homogenized tobacco.
The aroma of non-smoked cigarillos resembles a saturated tobacco, without any artificial flavors.
The taste is alike Cuban cigarillos. It is strong, dense, saturated and not sweet. The taste is stable. It reveals quickly and stays unchanged to the very end. The smoke is dense, rich and aromatic.
Although new on the market, Cigarillos Military have become popular among smokers. Smokers have already appreciated the strengths of this brand.
Cigarillos Military are created for smokers who know a lot about tobacco with high demands on quality and appearance. Great cigarillos for real men!